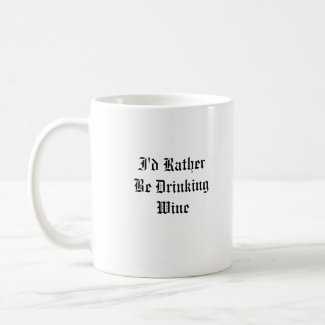 One of the things that I've played around with in GIMP, my imaging program, is making some layers and coloring in and shading an outline, then adding text.
I've had this bit of text in my head for a few years and knew that I wanted to do something with it - combine it with an image and make a T-shirt, make a sign...something. The words are a play on the Benjamin Franklin quotation you often see on shirts etc about beer. My version:
Wine is proof that Bacchus loves us and wants us to be happy.
The beginning for the graphic is a vintage black and white outline of grapevines and a wine barrel. Perfect.
I have to admit that I didn't create my text in the GIMP because I wanted the font sizes to be different for different words, and creating a number of separate layers and patching them together correctly for the text portion just seemed like too much trouble...or too daunting.
The back side of the
mug
, created on Zazzle, says: I'd rather be drinking wine, and I left it customizable so it could say drinking Chardonnay, Merlot, etc. I also put it on a T-shirt.
Wine is proof that Bacchus loves us T Shirts from Zazzle.com